In my previous article, I wrote about starting a blog and make money online on self-hosted WordPress blog. Self-hosted WordPress blog is not free, you have to pay for a domain name & hosting space. Many school and college students don't want to pay a single penny to start a blog but they want to share their knowledge, view and thoughts through a blog. That's why I am going to write a step-by-step guide to create a blog for free on Blogger and make money online.
How to Create a Blog for Free on Blogger/BlogSpot?
This article will show you 5 step guide to create a free blog on blogger and make money online.
Step #1: Sign Up to Create a Free Blog on Blogger.com
Visit Blogger's homepage and click on "Create Your Blog" button to begin the process to start your new blog at Blogger.com.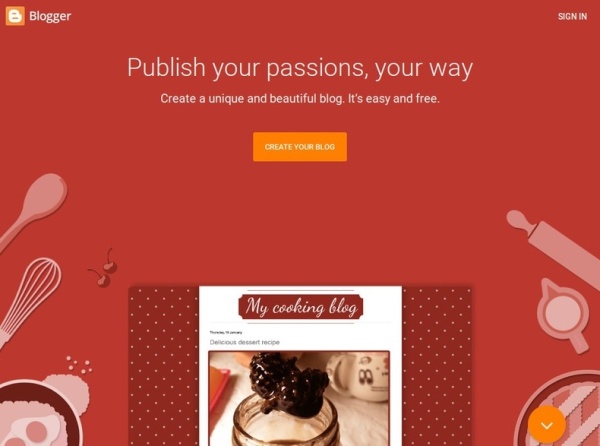 Step #2: Create a Google Account

As blogger.com is owned by Google, so you should have an account with Google. If you don't have a Google account, first create a Google account to complete the sign up process.
Step #3: Sign in with your Google Account

If you already have a Google account, you can by-pass the "Create a Google account" step and simply sign-in with your existing Google account username and password.
Step #4: Enter Name & URL of your Blog

Enter your Blog name in Title and corresponding domain name in the Address. Your blog address will end with .blogspost.com. It means you will get a custom domain name like "smartbloggingideas.blogspot.com".  if you don't want a custom domain name then you should host your website on self-hosted WordPress platform. Select a standard template for your Blog and click to "Create blog!" button.
Step #5: Congratulations !!!  – Your new Blog is Created

Your new blog is LIVE and now you can start writing posts on your blog. To write a new post, click on "New Post" button or "Create a new post" link as shown in below snapshot.
Before creating your first blog post, I would recommend you to go to "Pages" and create at least "About Us" page describing who you are and what your blog is about.
How to Setup your Blog's Layout
Go to "Layout" section, here you can add your logo to the header of your blog and add other features in widgets and footer section. By this way you can customize your free blog.
Earn Money Online with Google Adsense
Once you have a few blog posts, you can go to "Earnings" and enable AdSense for your blog. This will allow you to earn money from your Google Blog.
Here you can see Adsense is not enabled on my blog "Your blog doesn't currently qualify for Adsense".  To qualify for Adsense, you should meet following criteria:
Your blog have some quality posts, at least 30 to 40 articles.
Your age must be 18 years old.
You should comply with Google Adsense program policies.
Finally, your site should be active for at least six months.
Once you meet above criteria, Google will enable Adsense account on your blog.
That's it!
Which platform you are using for your blog, Self hosted WordPress blog or FREE blog on Blogger.com. Do let us know in comment section. If you enjoyed this article, don't forget to share it. Subscribe for latest blogging tips and updates.