If you are looking for SEMrush Review 2019, then you are at right place. This in-depth SEMrush Review will help you to crush your competition by researching your competitor's keyword and finding the most profitable keywords for your niche.
We all know "Content is King" but in today's scenario writing quality content is not enough, you need organic traffic to boost your sales. To get organic traffic, you need to research your competitor's keyword and make best use of SEO & long-tail keywords in your website.
SEMrush is best SEM & SEO tool for digital marketing professionals. It is trusted by many professional bloggers, webmasters and SEO agencies. SEMrush SEO toolkit helping many bloggers and webmasters to rank their website on Google's first page.
People have multiplied their earnings with SEMrush
Well said, "It's easy to sit up and take notice, what is difficult is getting up and taking action". Now it's your turn to take action and make your presence in the world with SEMRush FREE Trial.
What is SEMrush?
SEMrush is one of the leading all-in-one digital marketing tools for websites that cover SEO, PPC, keyword research, competitive analysis, social media monitoring, website audits, track keyword ranking, audit website backlinks and many more.
SEMrush started in 2008 and now this is world's leading competitive research service for online marketing with more than 400 employees in 4 countries. SEMrush currently have more than 1,000,000 Users with 130+ million Domains and 800+ million keywords.
If you are looking for Best SEM and SEO tool, SEMrush is right tool for you.
SEMrush Features & Benefit

SEMrush SEO tool is developed by SEOQuake, who have also developed most popular free SEO plugin for browsers that provides you with key SEO metrics for a specific page, along with other useful tools such as SEO Audit and many others.
SEMrush helps you to improve your website's search engine results page (SERP) rankings. Following features will help you to get your website to the top of Google Search.
Easy keywords research with less competition (find competitors' best keywords)
Domains' comparisons
Check website traffic
Analyze keyword potential
Keyword position tracking
Check your site's health with SEO analysis tool and fix the issues
Find all your backlinks and remove potentially dangerous backlinks from your website
Polish your keyword list with Recommendations
Learn from Your Competitors & Track Backlinks
Save time on social media management by posting to Facebook and Twitter
Many More….
If you want to know the complete features in detail, you can see SEMRush features here.
Why our SEMrush Review rating (5.0/5.0 Stars)?
After comparing so many other SEO tools, we found SEMrush is the best SEO tool to find your competitors' high potential keywords. Even you can do lot's of things with SEMrush such as complete domain overview, find top organic keywords, keyword gap, related keywords, backlink gap, social media managemnet and many more.
SEMrush also have:
> 1,000,000 users
> 800,000,000 keywords
> 130,000,000 domains
> 100 geo databases
It's not possible to cover everything about SEMrush in a single article, so we are going to publish a series of SEMrush articles in a form of step-by-step guide that will help you to learn everything about SEMrush.
You can also try SEMrush FREE Trial and explore it's features, trust me after using it, you will also give 5 STARS to SEMrush and this SEMrush review article because it will help you to multiply your income in no time.
Now Let's talk about some powerful features of SEMrush.
SEMrush Keyword Research:
Finding profitable keywords without any tool is really difficult. If you don't choose right keyword in your blog post or website, it's hard to get organic traffic. Keyword research is all about finding the right and profitable keywords for your website. Let's see some SEMrush tools that can help you in researching best keywords.
1) Keyword Overview: Find profitable keywords
If you want to see an overview of a certain keyword, then simply type your targeted keyword in keyword overview section like "affiliate marketing". You will see a nice information like organic and paid search volume, CPC Distribution, Keyword Trend, Phrase match keywords, related keywords and top 100 organic search results and ads copies.
You can dive into more detail by clicking on "view full report" button or navigating the left side menu. Apart from this, you can export all the keywords and organic search results in Excel or CSV format.
2) Domain Overview – Get organic keywords
If you want to see a domain overview, then simply type your competitor's domain name in domain overview section like "problogger.com". You will see top organic keywords and locations who are driving maximum traffic to their website.
The beauty of SEMrush domain overview is, you get to know everything about their main organic competitors, backlinks, referring domains, indexed pages and many more.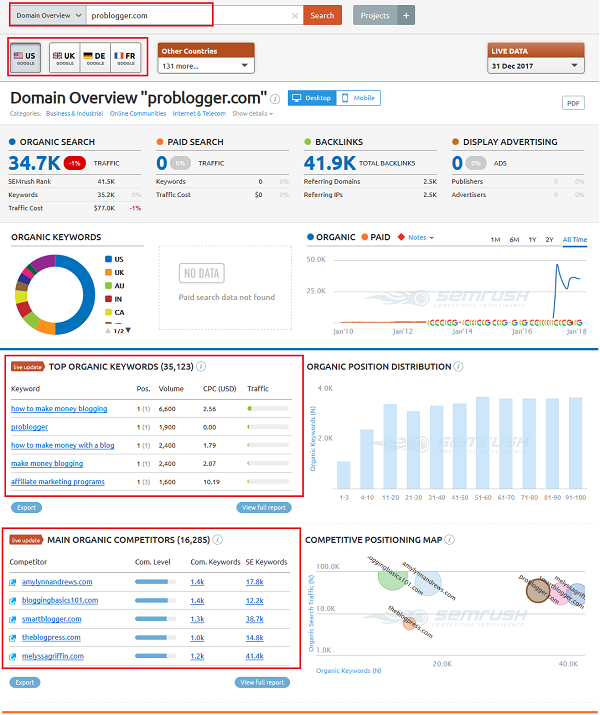 3) Compare Domains and Find Keyword Gap:
This is one of the most powerful tool which I feel is good for you. Put up to 5 competitor websites and see what keywords overlap here. You will find what keywords your competitors are ranking for and you are not.
Here I have put 3 domains name to find out which keywords these website are ranking for (Unique to the first domain's keywords, all common keywords, or all unique keywords).
SEMrush Plan & Prices:
SEMrush comes with 3 plans Pro, Guru and Business. All the plan comes with monthly and annually subscriptions. If you choose to go with Annual plan, you can save up to $800 with their business plan.
Let's take a look on monthly and annually subscription plans.
According to my opinion, if you are a newbie and want to explore SEMrush, go with PRO plan and when you feel comfortable with it's features and use. You can upgrade SEMrush to GURU plan or Business Plan as per your need.
If you need a custom plan, you can ask SEMrush and they will provide you with a plan designed to suit your needs.
Have a look at the features of different SEMrush plans and decide the right plan for yourself.
So, what are you waiting for, try your SEMrush FREE trail today and make your blog or website outstanding in the internet world.
Tomorrow never comes so start Today & Join SEMrush for FREE
Final thoughts about SEMrush Review: 
SEMrush is a powerful and well-balanced SEM & SEO optimization platform which helps you to do competitive and profitable keyword research, track keyword ranking, check backlinks, check competitor ranks, and a complete SEO audit of your blog. SEMrush is the best tool for bloggers, website owners, SEO and SEM professionals for in-depth keyword research and competitors analysis to take websites and blogs at highest level.
SEMrush won the European Search Awards for "Best SEO Software Suite" and have been nominated for "Best Search Software Tool."
What is your opinion about SEMrush?
Why do you think SEMrush is best SEM/SEO Tool?
Which plan you are using and why?
Write your feedback and queries in comment section as it helps other readers to know SEMrush in a better way.
[ratings]