We have already discussed about "How to Create a Blog for Free on Blogger" and "Self hosted WordPress blog" to start a blog and make money online. In this article, we will show you 5-step guide to create a blog for free on WordPress. Visit WordPress.com home page and click on Get Started button to start a blog.
Step #1: To start a blog or website with WordPress.com, you need to choose you home page. There are four options available "A list of my latest posts", "A welcome page for my site", "A grid of my latest posts" and 'An online store". You can select any of these options. I have selected "A list of my latest posts" option to start this blog.
Step #2: Here you have to select a theme for your blog, I have selected "Twenty Sixteen" WordPress theme. You don't need to bother about it. You can always switch to a different theme later.
Step #3: In this step, you have to enter your custom domain name. If your domain is not available, it will suggest you some similar custom domain name for your blog. If it is available, it will show you free as shown in below snapshot.
Step #4: WordPress has started offering FREE, Personal, Premium and Business plans so you can opt for any of the below plan. To start a blog and create a FREE custom domain name for life, select Free ($0) for life plan.
Step #5: Now fill "Your email Address", "choose a Username" and "Password" then click on "Create my Account" button to create your free account with WordPress.com.
Congratulations!!! your WordPress.com blog is created. Now you can start writing a post on your blog. Click on Continue button to check how your blog looks like. You can visit Smart Blogging Ideas FREE WordPress blog here.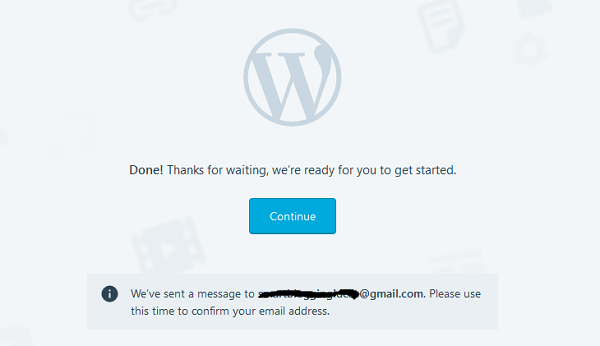 If you have liked this post, don't forget to share on Facebook, Twitter & Google+. Do subscribe below for latest blogging tips, make money online and latest updates.